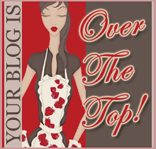 Dapet Award lagi,... dari
MeLodiC
sebenere males posting, selain males posting lgyan ina ndak di bilang "Combong". Baru dapet Award segitu ajah pamer. Ah biarin yang bilang begitu. Yang penting ina ngehargai si pemberi Award.
Pesen dari Awardnya :
"To receive this award your blog must be exceptional in design and content; presenting us with new knowledge, a sense of style, or at times giving us a smile!
Each recipient of this award must acknowledge the person who honored them with the award and then go to overthetopaprons.blogspot.com to copy/paste the award: Your Blog is Over the Top"

Awardnya jg ina berikan ke :